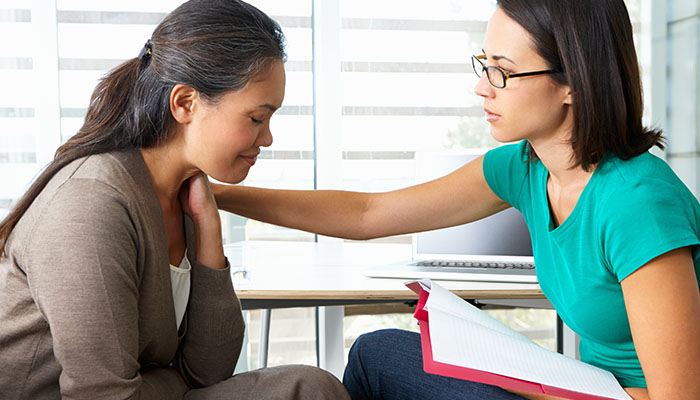 Safe Harbor's counseling staff have specialized training and experience in working with survivors of domestic violence, sexual violence, and human trafficking. We utilize trauma-informed interventions to facilitate healing, empowerment, and resiliency in a safe and confidential space. Counseling services are offered free of charge and are available in both English and Spanish.
We provide these services to anyone regardless of race, gender, age, national origin, immigration status, gender identity or expression, faith, sexual orientation, disability, ethnicity, and geographic location.
We offer the following counseling services:
Individual counseling

For adults who have experienced sexual violence, domestic/intimate partner violence, or human sex trafficking.
Children/Youth

Ages 5 and up who have witnessed intimate partner violence involving a parent or guardian
Ages 13 and up who have experienced sexual abuse/assault or dating violence

Support Groups

Support groups are an excellent way for survivors to connect with others and learn how to cope and heal from their traumatic experiences. Please see below the groups we offer on a regular basis. If there is enough interest, we may also run other groups such as a Men's Support Group, Teen Support Group, Caregiver Support Group, LGBTQ+ Survivor's Group, Black Women's Support Group, and Art Therapy Group. Call our counseling referral line at any time to find out what groups we're currently offering.
Domestic Violence Support Group – This group is offered three times a year (Fall, Spring, and Summer) to adult women survivors of domestic violence.
Formerly known as CCP, the Wellness, Connection and Resiliency Group (WCR) is a trauma informed group that focuses on the topics of psychoeducation on coping skills; identifying healthy social supports, healthy relationships, and sexuality; psychoeducation on power and control; substance abuse and human trafficking resources; and lastly, psychoeducation on trauma and self-esteem. Individuals must complete the 6 sessions and a case management session to receive a certificate of completion.
Seeking Safety Group helps survivors of sexual and domestic violence and human trafficking recover from their traumatic past so they can regain the footing they need to move forward in life. Seeking Safety is relevant for all types of traumas including neglect, physical, sexual, or emotional abuse and addictions including substance use.
Because the effects of trauma can be lingering, we work with individuals who have experienced these forms of violence whether the incidents are ongoing, happened recently, or happened years ago.
Counselors are available to meet with clients at our community office in the West End, at Housing Families First's office in the East End, and at the Sacred Heart Center in Manchester.
If you are interested in learning more or would like to schedule an appointment, please call our counseling referrals line at (804) 249-9470 ext. 112.
Leave a message with your name and contact information, and let us know if it is safe for us to call you back. Your call will be returned within 48 business hours, and a member of the Safe Harbor team will complete a brief phone intake with you to assess your needs and schedule an appointment with one of our counselors.
If you are in crisis and need immediate assistance, contact 911 or the 24-hour confidential Greater Richmond Regional Hotline at 804-500-2755.