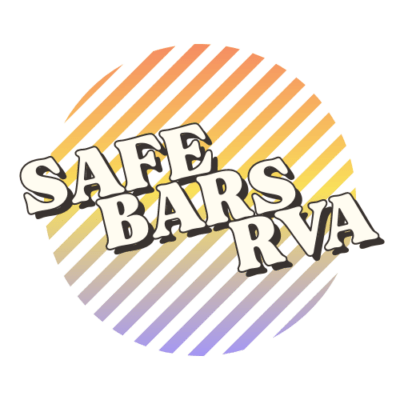 Safe Bars: Training service industry staff to stand up to sexual violence.
We are a collective of hospitality workers and sexual violence prevention professionals aiming to address sexual the issue of assault/harassment originating in places that serve alcohol. Our goal is to increase safe(r) nightlife experiences for folks in the greater Richmond region.
Why Bars?
About half of all sexual assaults involve alcohol. Unwanted sexual attention, including verbal harassment and touching, occurs frequently in bars, restaurants, and clubs. We know that alcohol doesn't cause sexual assault, but it's used as a weapon to incapacitate targets and as camouflage to excuse aggressor behavior. Bars, restaurants, clubs, and breweries also have some of the highest rates of workplace sexual harassment of any industry in the U.S., harming workers and their workplaces alike.
Training Info
Our 2.5 hour, interactive trainings are offered free of charge. Our curriculum focuses on two main areas– recognizing unwanted sexual aggression and targeting; and responding to it. We cover the scope and causes of sexual aggression, and then use an active bystander intervention framework to empower staff to step in when they suspect inappropriate behavior. We present multiple methods of intervention so that staff can tailor their responses to their own comfort levels and identities.
Team
Kailie Smith, Founder; Director of Outreach, Education, and Community Engagement, Safe Harbor
Kat Adams, Advocate, VCU-Project Empower
Reed Bohn, Project Empower Manager, VCU-Project Empower
Lisa D'Allesio, Bartender
Beth Dixon, Owner, Salt & Acid
Cody Dunavan, Bartender
Kimberly Embe-Mamong, Counselor and Advocate, VCU-Project Empower
Gabby Hutchinson, Advocate, VCU-Project Empower
Brooke Graham, ECommerce Manager, The Veil Brewing Company
Sophia Kim, Bartender
Joey McClain, Bartender, Kismet
Tameika McCoy, Advocate Coordinator, VCU Counseling Services
Sam Mickey, Violence Prevention Specialist, YWCA
Katherine Moore, Volunteer and Administrative Manager, Safe Harbor
Brandon Peck, Beverage Director, The Jasper
Robin Sawyer, Violence Prevention Specialist, YWCA
Lindsey Scheer, Venue Manager, Broadberry Entertainment Group
Liz Timmons, Senior Sexual and Domestic Violence Therapist, Safe Harbor
Kaylin Tingle, Healthy Relationships & Violence Prevention Educator, University of Richmond
Tyler Wallace,

Outreach and Prevention Coordinator, Safe Harbor; Bartender, The Cask Cafe
Donate to Safe Bars RVA to help us cover travel costs, train new members, and offer scholarships for your favorite bar, venue, or brewery!
Contact Information
Kailie Smith, Founder